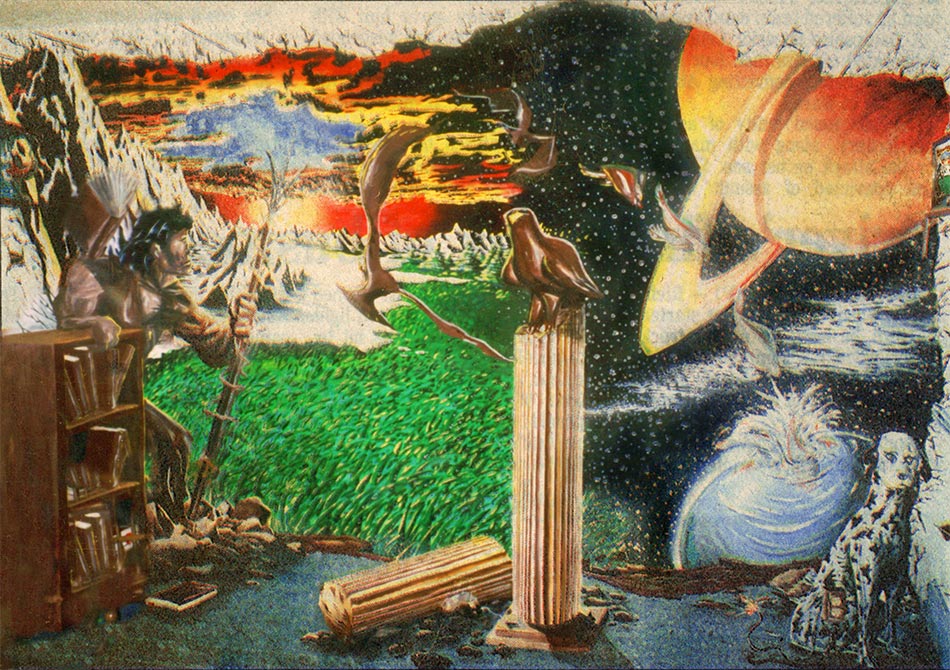 By GINA A. SANTORO
Written for The Call
Download Original Publication
UXBRIDGE – When asked to describe the floor-to-ceiling
mural which covers the back wall in his office,
Jack Robarts, principal of Uxbridge High School, says
one word: Spectacular.
The mural, which measures 9′ x 20′ feet, was
designed and painted by Michael Tracy, a senior at the
high school.
He has – figuratively – broken through the walls,
ceiling and floor, and given the room an illusion of
depth, says Robarts.
Planets, a savage hunter and an eagle that turns into
a fish are some of the elements of the mural.
The idea to paint a mural in the office came about at
the principal's request last year.
"My office has no windows," said Robarts. "It's like
a tomb."
Since murals have been painted throughout the
school, Robarts decided to ask the art teacher if a
student could paint a scene in his office.
Tracy wasn't available at the time; he was in
Australia as an exchange student from February to
June.
When school started last fall, though, Tracy
immediately began working on the concept.
The principal asked him to incorporate
a space scene into the picture.
Tracy granted the request and
made a design in which half the
scene fades into a normal earth'
scene. Shadows of clouds add to the
design.
Tracy spent about an hour and a
half every day working on the
mural. He began by marking the
wall in a grid spaced every six
inches. Then he reduced this grid,
transferring it from the wall to
paper. The design came next.
This paper was copied onto a
transparency, which he projected
onto the wall. He traced the design
onto the wall, then filled it in with
paint. He used mostly latex paints
left over from touch-up work the
janitors had completed throughout
the school.
Tracy says he hopes to continue
developing his artistic skills after
graduating in June. He has applied
to five art schools, with the Rhode
Island School of Design, Massachusetts
College of Art and Cooper
Union being his top three choices.
"I'll go to whichever one asks for
the least amount of money," he
says.
His goal is to illustrate comic
books, something he's collected
comics for years. He also plans to
learn about mosaics in March from
an art teacher who will be visiting
the school. Yet, he still enjoys
painting murals.
He is now working on a mural in a
historic home in Whitinsville, recreating
historic Uxbridge using
some old photos as his guide. The
mural was to cover five walls in a
dining room, starting at hip level
and extending upward.
While Tracy is preserving
Uxbridge's past through his art,
Robarts is enjoying his office.
"The mural is great. It's like I
have this other world behind me.
When things get too bad, I can head
into this world," he said, laughing.