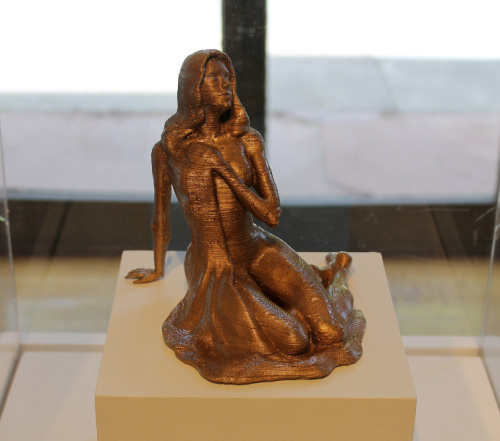 When T. Michael Tracy 99 IL broke open a mold he had formed using a 3D printed plastic figurine, the illustrator had no idea what to expect. Luckily, the computer-designed model was made from an organic compound and melted away cleanly in the kiln, leaving behind a hollow vessel. The artist then used molten-hot bronze to cast a finely grooved sculpture (pictured above, large middle photo).
"Some of my fellow educators were concerned that melting the 3D printer plastic would be an environmental hazard," Tracy explains. "But heating up the substance is like burning an ear of corn. It's harmless."
The intriguing piece is part of the Summer Faculty Exhibition now on view at Woods-Gerry Gallery. The show features work by RISD faculty members who are teaching a diverse range of courses for teenagers and adults this summer, including the web design and photography courses Tracy is teaching through RISD Continuing Education.
"I really love being in the classroom with developing artists," he noted at the opening reception for the show last Thursday. "Their energy is infectious."
At the opening visitors were entranced by Frog Legs (above bottom), an arresting painted resin sculpture by Jesse Thompson MFA 07 SC portraying a small girl trying on "life-cast" adult-sized arms. "I really enjoy playing with proportions and textures," he quipped.
Viewers also lingered near Visual Statistics, digital prints by Emma Hogarth MFA 09 DM present microscopic images of human skin (top photo). The artist is fascinated by the ability of technology to mistakenly alter colors, textures and other fine details when capturing biological phenomena.
"People have asked me if these pieces are supposed to be moons, alien planets or other spacey objects," Hogarth says. "In reality, these prints are capturing life on earth close up."