Have you always had a custom piece of artwork on your mind?
Unsure of how to go about commissioning an artist, and what to expect?
The commission process is quite simple and structured to keep you aware of every step involved.
Step One: Consultation
The initial consultation is designed to better understand what type of artwork you have in mind.
You may not know exactly, it might be more of a feeling or an impression.
Through asking the right questions, and carefully listening to your answers a picture will begin to develop about the look and feel of your inner visions that can begin to be transformed into reality.
Questions to Consider
* Do you have a subject matter or environment in mind – Man, Woman, Flowers, the Ocean?
* Is there an action, activity, or specific moment occurring in the artwork?
* Are there any specific colors you were thinking of?
* Is there a style of art you have in mind? Broad expressive brush strokes, or photo realism, or soft water color textures etc?
* Is there a picture you could point to as an example of the 'feel' of the artwork you have in mind?
* Is there a display space you have in mind for the artwork that would determine the artwork's dimensions?
Step Two: The Sketch
Based on the initial consultation a sketch will be developed that reflect an interpretation of the answers provided. Though it is important to remember this sketch is simply a starting point
In this example the client requested:
1. A Lake at sunrise.
2. A Dock stretching into that lake.
3. At the end of the Dock a chair, with a fishing pole.
4. A fish jumping from the lake.
5. Quails flying over head.
6. A small weathered boat with oars.
7. A black Labrador spotting the wildlife.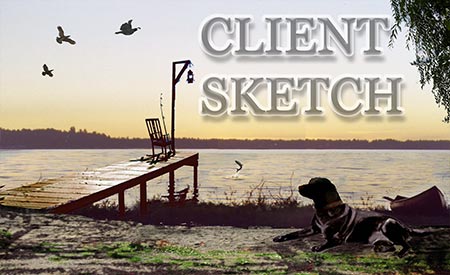 Step Three: The Rendering
Upon receiving the sketch, clients may ask for specific details to be added, removed, or changed before a more polished rendering is started were the artwork is refined further.
In this example the client requested:
1. The dog be given a decorative collar.
2. A Palmetto tree in the distance
3. A stronger impression of sunrise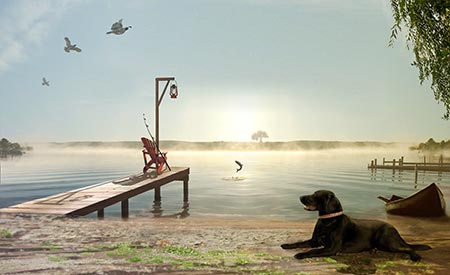 Step Four: Final Details
At this stage, there is a final opportunity to edit any details before the final artwork is produced.
In this example the client requested:
1. To give the dog collar a Palmetto tree tag.
2. To include a book next to the chair.
3. To add his name to the boat along with a Palmetto tree symbol.
Step Five: Production
Based on the final rendering, the artwork is produced on high quality canvas to specified dimensions up to 4' feet x 8' feet, stretched, varnished, and ready to hang with all the necessary hardware attached.
Depending on the complexity of the artwork and number of requested changes clients can expect the finished artwork in 1-4 weeks.
All original artwork goes through this development process, however additional finish production methods are available beyond canvas, learn more about:
3D Paintings
Reverse Transparency Painting
Architectural Installations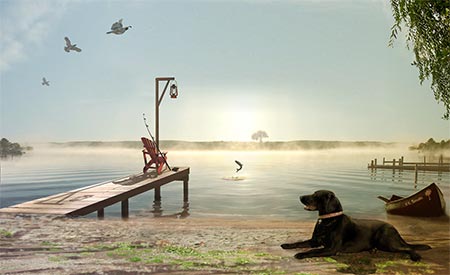 Step Six: Framing
Framing is an optional service clients may wish to include with production of the final artwork.
A selection of suitable frame styles and colors will be presented from a wide variety available for the client to choose from.
The frame will be ordered and assembled and delivered with the final artwork ready for hanging and presentation.